Mission Statement
The mission of the Elmwood Park Police Department shall be to promote a partnership between the community, businesses, government, the media, and law enforcement designed to reduce crime and improve the overall quality of life, while encouraging the community to determine its own needs through the exchange of ideas and problem solving techniques by implementing a proactive patrol which will inspire confidence and trust in the Police Department and all of its members. Every encounter with a member of the public is an opportunity to strengthen police/community relations. One unprofessional encounter negates the positive work performed daily throughout the Department.

Core Values
Professionalism:
We are committed to providing professional law enforcement services by highly trained personnel accountable to our community.
­Integrity:
We are committed to demonstrating and maintaining the highest ethical standards both personally and organizationally.
­Responsiveness:
We are committed to providing competent and effective delivery of services in response to community concerns.
­Sensitivity:
We are committed to providing services in a manner sensitive to our diverse community.
­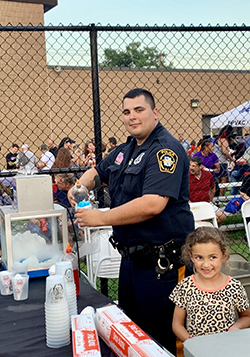 Respect:
We are committed to providing courteous police service with respect for the rights and dignity of all people we serve.
­Respect for Co­workers:
We are committed to maintaining a workplace environment based on mutual respect, which reflects an appreciation of the unique qualities of each individual who contributes to the overall good of our team.
­Service:
We are committed to valuing the community we serve and meeting the community's needs while working together to build and maintain channels of communication between the community and ourselves. We do this by being personally involved in our community, fostering a team effort among ourselves and those we serve, and working cooperatively together in an effort to identify and resolve problems within the community.
­Excellence:
We are committed to and pride ourselves in our personal and organizational excellence and professionalism, acting responsibly and carrying out our duties with competence and efficiency.

We recognize that our employees are our most treasured asset and the cornerstone of our department's success. We will strive to make continuous improvement through training and education.